Casa Oak Dining Table + 6 Chairs
The warm, natural tones of the American oak veneers and solids are complemented beautifully by the olive-grey bonded leather seat pads and feature soft-grey colour accent detailing.
Dimensions : Closed – 128cm x 88cm x 77cm h
Dimensions : Open – 168cm x 88cm x 77cm h
Was £1499 Now £999
Extra discounts available on this set.
Available for immediate delivery.
Florence Leather 3 + 1
Florence full leather, power recline 3 seater sofa with matching chair in blue as shown, complete with adjustable headrest. This really is the ultimate in reclining comfort.
Ready for immediate delivery as colour now discontinued. This beautiful set comes complete with a 10 year structural guarantee & 5 year mechanical guarantee.
Was £3200
Now £2500 for 3 seater + chair
Healthbeds Clearance Mattresses
4'6 Kensington Natural 3000 mattress Was £829 Now £575 Further discounted to £499
5'0 Ultra 2000 Natural 2 drawer set including headboard as shown in Duck Egg Blue Now £999
4'6 Cooltex 2400 mattress Was £999 Now £499
All ready for immediate delivery.
Millbrook Beds
All beds to be sold as seen as complete sets (ie base, mattress & headboard), ready for immediate delivery, call in store to try.
5'0 Ortho 2000 pocket 2 drawer set & matching headboard                                                   RRP £2987.00                                                                                                   Sale Price – £1898.00                                                                                     Now – £949.00
5'0 Ortho 3000 pocket 4 drawer set & matching headboard                                                   RRP £3789                                                                                                           Sale Price – £2998                                                                                           Now – £1499
Half Price Healthbeds Kensington Mattresses
To make way for the new spec Kensington mattresses, we have 2 mattresses ready for immediate delivery:
Natural choice toppings of wool, silk, cashmere & cotton for a refreshing nights sleep.
4'6″ Kensington 3000 Medium/Firm Was £829 Now £575
5'0″ Kensington 4500 Medium/Firm  Was £1149 Now £849
5'0″ End opening ottoman set complete with 4500 deluxe pocket mattress Was £2999 Now £1500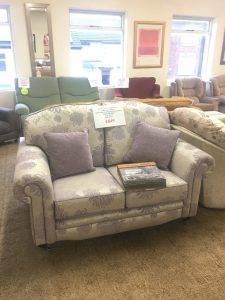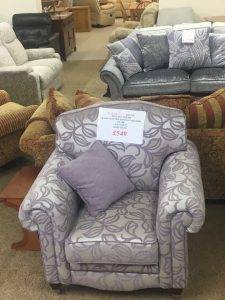 Krystal 2 Seater and Chair
For all you lilac lovers with a small space to fill, the Krystal in Lilac contrasting fabrics is available for delivery now, due to the suite being discontinued.
Dimensions:
2 Str 61″(w) x 36″(d) x 40 (h)
Chair 39″ (w) x 36″ (d) x 40″ (h)
Was £1349 Now £1200