Ottoman Storage Beds
The perfect storage solution for any home, the ottoman bed is practical, whilst retaining style in your bedroom. We have a great range of beds with lift up bases to maximise your storage with ease. Choose from end opening, side opening or half opening with drawers.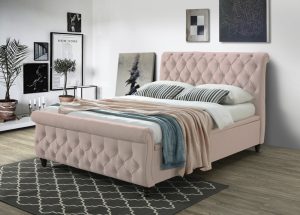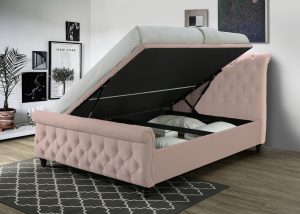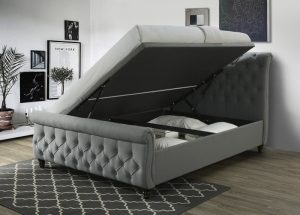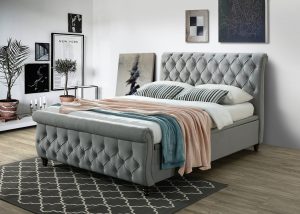 Freeman bed
Available in a choice of either pink or grey as shown. Available as standard double (4'6″) or King size (5'0″).
Plenty of extra storage with the ottoman base.
For prices see in store.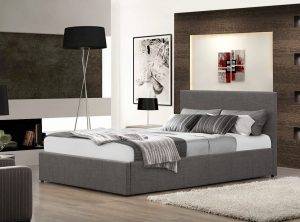 The Berlin Ottoman
A classic design, the Berlin fabric ottoman adds both style and versatility to any space.
With strong gas-lifts to access the storage space, this frame is upholstered in a choice of fabric options.
A sprung slatted base for natural bounce, the frame adjusts to where pressure is exerted most, providing greater comfort.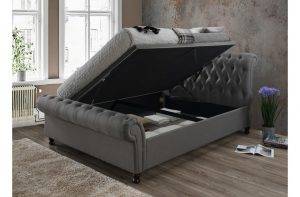 The Castello
This fantastic bed frame combines practicality with style with its striking rolled headboard and matching foot-end.
The storage base can be fitted to open on either the left or right-hand side of the bedstead giving you that extra flexibility.
The Castello side ottoman is available upholstered in a steel velour, charcoal or grey fabric.
This frame has a sprung slatted base to give natural bounce, adjusting to where pressure is most exerted for greater comfort.
A protective base board is also included.
Side Opening Base
Side opening ottoman base, available in all sizes, and with a choice of 20 colours to match in with your bedroom colour scheme. Matching headboard's also available.
End Opening Ottoman Base
Convenient, space saving, storage maximising bases, available in all sizes, and with a vast range of colour options.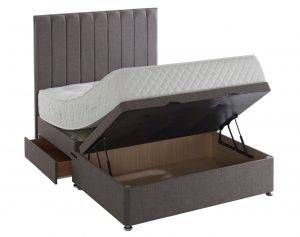 Half Ottoman 2 Drawer Base
The Half Ottoman 2 drawer base offers twice the storage space, yet takes up the exact same amount of space as a regular divan bed. Innovatively designed so that you can lift half the mattress base exposing a large cavity underneath the mattress along with a traditional drawer setup. It reduces the stress and strains of lifting an entire mattress. A superb quality product that uses a side lift hydraulic lift mechanism which takes the manual effort of raising the base.
Available in all sizes, and colour options a plenty.