Sofas for Ashbourne – Free Delivery
Here at Coytes in Burton, we have decades of experience when it comes to sourcing the finest quality leather & fabric sofas for you in Ashbourne and the surrounding areas. Our wealth of experience has given us a fantastic understanding of what our customers have come to expect from their new sofas in Ashbourne homes; allow us to take the stress out of selecting a new sofa, and choose from our stunning, high quality range.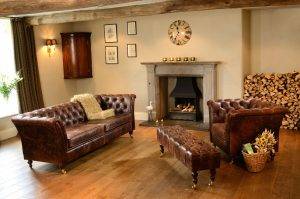 Luxurious Sofas in Ashbourne
Choosing your new sofa is a very personal decision. A sofa that is perfect for one home may be the wrong choice for another. As such, we have strived to ensure our range of sofas in Ashbourne is as diverse and versatile as possible. Whether you are looking for something formal and elegant for the drawing room to entertain guests, or something relaxed and comfortable for the family room, we have the ideal options for you.
Our range includes sumptuously soft fabric sofas, in a range of styles. For something contemporary and modern, we'd recommend the Phoenix range. Available in a range of fabrics, it is generously sized and available as a corner group, two and three seat sofas, and chairs.
We also stock a range of luxurious leather sofas in Ashbourne. For something formal and impressive, you may find the Bretby style of leather sofa is the ideal match for you. Featuring hardwood frames and high density foam and fibres for support, it provides a refined character for your living areas.
In addition to our leather and fabric sofas in Ashbourne, we also supply lift and rise recliners, which are second to none in terms of comfort. These are ideal for those with mobility issues to consider, and can make a great difference to your freedom and quality of life. They are often available with matching items, so you can enjoy a seamless and consistent look in your living areas.
Contact Us Today for Stunning Sofas in Ashbourne
If you have any questions at all regarding our range of sofas in Ashbourne and the surrounding areas, please don't hesitate to get in touch. We're always happy to offer any help and advice you may need. In addition to the sofas listed online, our range is further extended in our showrooms. Why not pop in for a visit and try our sofas for yourself!