Dining Room Furniture Showroom for Ashbourne
When it comes to selecting new dining room furniture in Ashbourne and the surrounding areas, we at Coytes understand that it can seem a little tricky. There are many factors to consider that go beyond the style of the furniture. You also need to consider your budget, and the room itself, as well as practicality and function. Our large showroom in Burton is a short drive from Ashbourne, has free parking and offers free delivery.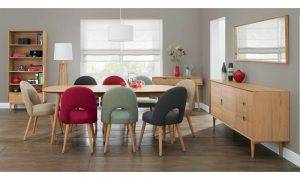 If you are looking for new dining room furniture in Ashbourne for your home, you are sure to find the perfect balance between style, budget, and flawless function in our ranges.
We take the stress out of choosing the perfect new dining room furniture; whatever the character of your home, we have gorgeous options for all.
Stunning Dining Room Furniture near Ashbourne
Our ranges of dining room furniture for Ashbourne and the surrounding areas include options for relaxed and informal dining, as well as formal dining room sets. This means that however you dine in your home, you will do so in comfort and style with our gorgeous, high quality dining room furniture.
You will find that some of our dining room furniture options also have complementing bedroom furniture. This allows you to keep a seamless theme throughout your Ashbourne home, with each room blending effortlessly for a well-put together look.
For modern and contemporary dining room furniture, we would personally recommend our Oslo range. The Oslo range features clean, smooth lines, and fine attention to detail with tapered legs and ergonomically shaped surfaces. Furthermore, it is available in a choice of oak or walnut finish so it complements your dining room.
If you prefer a more traditional look for your dining room furniture, you may find that our Montreux range is the ideal option. In soft cream, with elegant detailing, it presents a fresh and clean appearance, while keeping its charming character.
Contact Us Today for Dining Room Furniture Delivered to Ashbourne
You are always welcome to get in touch with us should you have any questions or queries regarding our dining room furniture in Ashbourne; we are always happy to offer you any help and advice you need to help you make your choice.