Looking for a Corner Sofa Showroom in Swadlincote?
Then take a short trip to our Burton showroom. With a superb range on display, expert advice, free parking and free delivery you can't go wrong!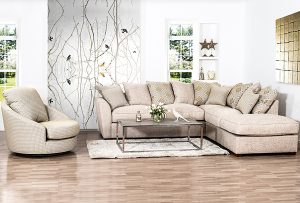 Corner sofas are rapidly becoming one of the most popular kinds of sofa for homes in the UK, and it's easy to see why.
Corner sofas allow you to maximise the seating space in your living room, giving you a smart and modern alternative to the traditional two and three seater sofa. We have many satisfied corner sofa customers from Swadlincote who are so glad they made the trip.
The range of corner sofas for Swadlincote available at Coytes offer superior comfort and style for your home; they come in various styles to suit all living rooms, whether you opt for modern or traditional styles.
Corner Sofas for Swadlincote, Designed for Comfort and Style
The Coytes range of corner sofas are available in a selection of colours and materials. This means your new corner sofa will be a perfect match for your room, fitting in seamlessly with your décor and other furniture. Whether you are looking for a new large sofa for the family room, or something a little more compact for a reading nook or conservatory, you will be sitting in perfect comfort with one of our stunning corner sofas. Our range currently includes the following styles, with more available to view in our Midlands showrooms:
• The Phoenix – Generously sized sofas, perfect for the family living room, which allow you to sit or recline in total comfort. The Phoenix is available as a corner sofa with footstool, two and three seater sofas, and chairs
• The Clarissa – The Clarissa is one of our more compact corner sofas in Swadlincote, and the chaise can be on the left or the right, depending on your needs. It's available in black, or grey.If you are looking to refresh the look of your living room, we can provide luxurious footstools and coffee tables to complement our corner sofas in Swadlincote.
Call Us for More Information on Our Corner Sofas for Swadlincote
If you would like any further information on our corner sofas and your Swadlincote home fit, please don't hesitate to give us a call. We are always happy to help, and can offer advice on getting the most out of our furniture ranges in your home.