Corner Sofas for Ashbourne Homes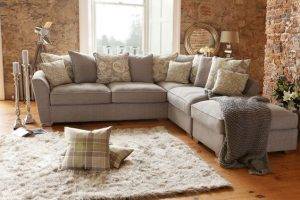 Corner sofas are becoming a more and more popular option for houses across the UK, and with good reason.
Corner sofas available in Ashburne from Coytes offer a level of comfort and versatility that may be missing from some other styles of sofa, and they are available in a range of styles, colours and fabrics to meet the needs of every home.
We have an extensive range to view in our Burton showroom a short drive from Ashbourne. And with free parking and free delivery… It all comes together at Coytes!
A Stunning Range of Corner Sofas for Ashbourne
Here at Coytes, we have decades of experience when it comes to supplying superior quality furniture and furnishings to homes in the Midlands and the surrounding areas. Originally established over 44 years ago in Burton on Trent, we have expanded to include a further two showrooms. Here, you can view our range of corner sofas in Ashbourne in person and try them out, so you can be sure your new sofa is the perfect match.
For a more subtle, modern look for your new corner sofas in Ashbourne, you may find our Clarissa corner sofa may be the ideal option. Featuring petite sizing and a choice of black or grey upholstery, they offer the perfect corner seating options for a smaller space or snug. The Clarissa style of corner sofas in Ashbourne allow you to have the chaise on the left or the right, simply by rearranging the cushions.
For something a little grander, you may find the Phoenix corner sofas in Ashbourne offer unparalleled comfort and style. With generous proportions, the Phoenix range allows you to sit, recline, lie back, and relax in your most comfortable position. It features modern design, and deep foam seating. Additionally, it is available in a comprehensive range of fabrics and colours to suit your personal style.
Furthermore, the Phoenix corner sofas in Ashbourne are part of a wider range which offers a corner sofa with footstool, three seater sofas, two seater sofas, and a chair. This allows you to enjoy a consistent look in your living areas.
Another popular option that we offer is the Fantasia corner sofas in Ashbourne. It features contemporary detailing, and is available as a sofa, corner group, or armchair. To further tailor this sofa to your preferences, it is available as a standard back or pillow back sofa.
Visit Us for More Corner Sofas in Ashbourne
We do have a more extensive range of corner sofas in Ashbourne and the surrounding areas at our showrooms. If you'd like to see the stunning quality of our corner sofas in Ashbourne for yourself, please don't hesitate to pop in for a visit. If you have any questions, or need any advice, just call us.